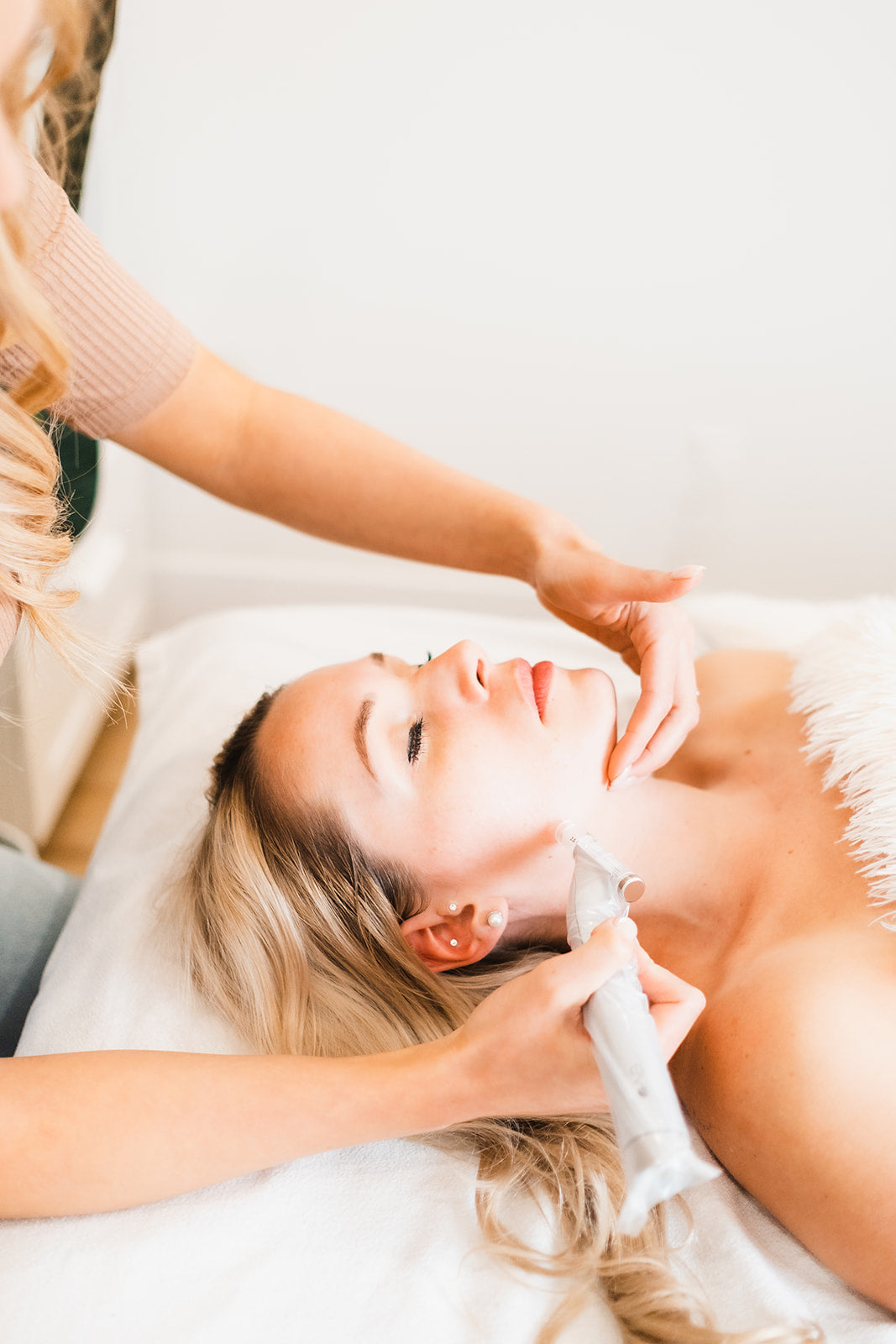 Micro-Needling Acupuncture
WHAT IS MICRO-NEEDLING?

Micro-needling, a non-surgical and minimally invasive technique, harmonizes ancient acupuncture principles with contemporary micro-needling methods. This holistic Traditional Chinese Medicine (TCM) approach, also known as Plum Blossom Acupuncture, has been modernized to enhance its effectiveness. Its application is designed to address concerns such as fine lines, wrinkles, acne, and hyperpigmentation.
THE BENEFITS OF MICRONEEDLING

Fine lines
Wrinkles
Large pores
Scarring
Acne prone skin
Hyperpigmentation
Acne
Flaccidity
Uneven skin tone
Under eye bags and dark circles
Stretch marks
Hair loss
BOOK NOW
EXPLORING MICRONEEDLING: ENHANCING WELLNESS AND SKIN VITALITY NATURALLY
Used in a holistic approach, Microneedling acupuncture is used to promote, maintain, restore, or improve health, to prevent a disorder, imbalance, or disease, or to alleviate pain.
When stimulating an acupuncture point it also has a strong positive effect locally on the skin and the tissues below with improved blood flow and breaking down of scar tissues, wrinkles, skin imperfections, etc.
Leaving you with a healthier and more relaxed body, mind and skin.


Microneedling is an effective natural alternative to fillers, injectables and invasive treatments. You can achieve natural long-term results without the risks and side effects of other treatments with a treatment catered specifically for you and your imbalances. Collagen produced from this treatment makes your skin tighter and firmer and your fascia stronger, softer and more relaxed.
Acupuncture is covered by most insurance No Dr referral needed We can also direct-bill
OUR DOCTOR OF TRADITIONAL CHINESE MEDICINE
Owner & Therapist

DR. ALLISON MALONEY

Registered Acupuncturist, Herbalist, Doctor of Traditional Chinese Medicine, Yoga Instructor
FAQs
WHAT EXACTLY DOES MICRONEEDLING DO?

Microneedling uses small sterilized needles to lightly puncture the skin. These tiny injuries prompt your body to produce collagen, enhancing the texture and look of your skin.
WHAT ARE THE BENEFITS OF MICRONEEDLING?

Through stimulating collagen production, microneedling helps minimize fine lines, wrinkles, acne scars, and stretch marks. It can also improve skin texture, tone, and treat other issues like hyperpigmentation and large pores.
HOW LONG DO MICRONEEDLING RESULTS LAST?

Microneedling results typically last several months, but the duration can depend on the individual's skin condition and the concern being addressed. Ongoing treatments might be required to maintain these results.
IS MICRONEEDLING PAINFUL?

While some discomfort may be experienced during microneedling, a numbing cream is often used to alleviate potential pain, making the procedure generally well-tolerated.
ARE THERE ANY DOWNSIDES TO MICRONEEDLING?

Despite being a generally safe procedure, microneedling might lead to temporary redness, swelling, and minor discomfort. Proper aftercare, including sun protection, is crucial to managing these effects.
WHAT ARE THE NEGATIVE EFFECTS OF MICRONEEDLING?

Potential negative effects of microneedling could include temporary redness, swelling, bruising, and minor skin irritation, but these are usually short-lived and resolve naturally.
WILL I SEE RESULTS AFTER ONE SESSION OF MICRONEEDLING?

Though some results might be noticeable after a single microneedling session, a series of treatments is usually recommended for optimal outcomes.
IS MICRONEEDLING EFFECTIVE FOR WRINKLES?

Yes, microneedling can be advantageous for wrinkles and fine lines. By promoting collagen production, it can improve skin elasticity and reduce signs of aging.
HOW MANY MICRONEEDLING SESSIONS ARE REQUIRED?

The number of recommended microneedling sessions can vary based on individual skin condition and treatment goals, but typically three to six treatments spaced weeks apart are suggested.
AT WHAT AGE SHOULD YOU START MICRONEEDLING?

The best age to start microneedling can depend on individual needs and specific skin concerns. A consultation with Dr Maloney can help determine when it's right to begin.
DO WRINKLES REAPPEAR AFTER MICRONEEDLING?

Due to natural aging, wrinkles can gradually return over time. Nevertheless, microneedling can help manage the look of wrinkles and slow their progression by encouraging collagen production.
WHAT CAN BE EXPECTED THE DAY AFTER MICRONEEDLING?

You might experience mild redness and swelling, akin to a sunburn, the day after microneedling. It's important to follow your skincare professional's aftercare instructions, which may include using gentle skincare products and avoiding sun exposure.
WILL MY FACE PEEL AFTER MICRONEEDLING?

Some mild flaking or skin peeling could occur post-microneedling. This is part of the natural healing process and usually subsides within a few days.