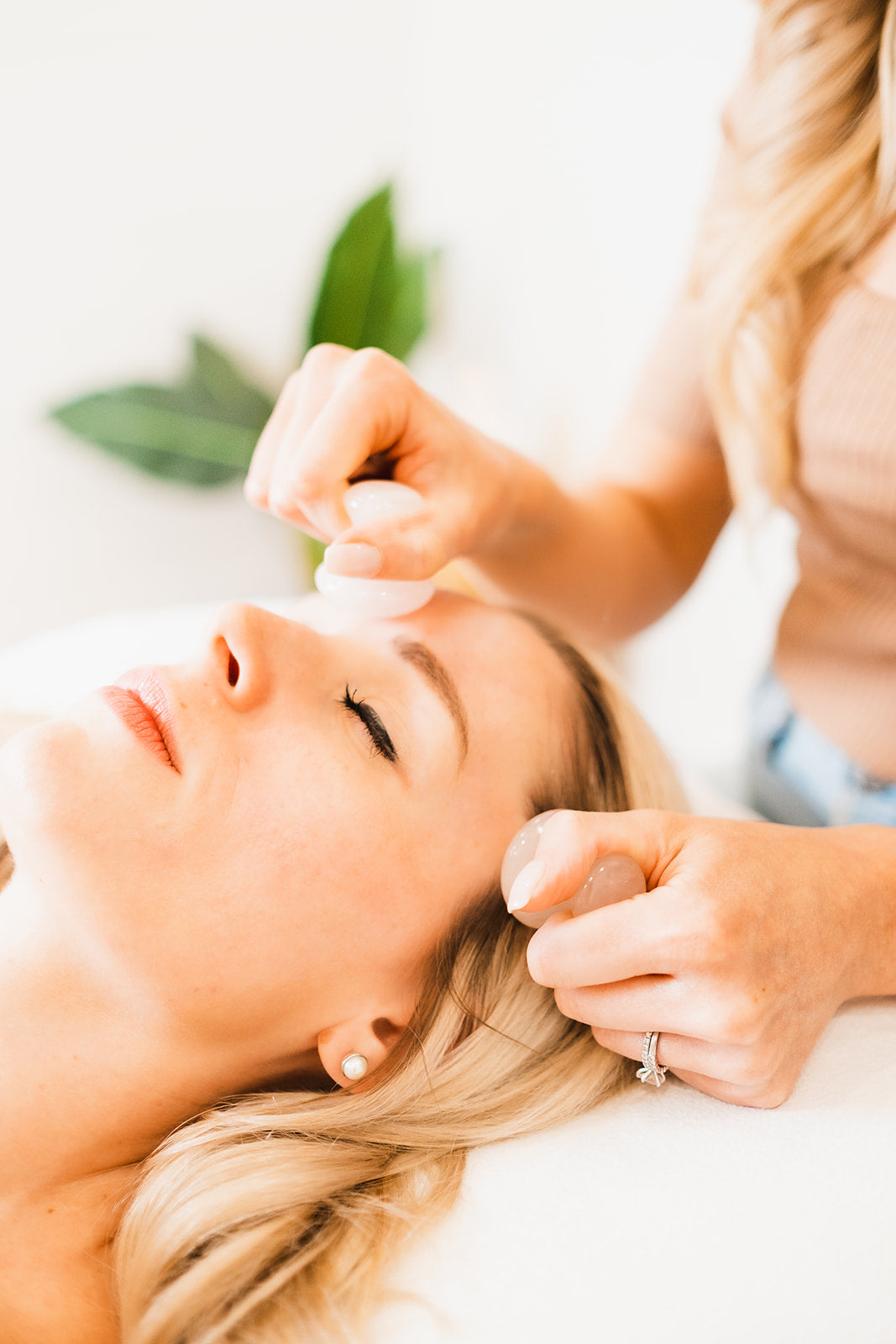 Facial Acupuncture Rejuvenation
WHAT IS FACIAL ACUPUNCTURE REJUVENATION?

Facial Rejuvenation is a technique that employs the use of thin
needles, gently inserted into specific points on the face and body. The aim is
to enhance collagen production, firm and lift facial muscles, and minimize
wrinkles.
THE BENEFITS OF FACIAL ACUPUNCTURE

Improve muscle tone
Firm up facial muscles
Stimulate collagen production
Balance skin tone and pigmentation
Lift the skin around the eyes, neck, and mouth
Treat acne
Heal sun damage and other skin conditions
Reduce stress
Alleviate other symptoms such as digestive issues, insomnia,
fatigue, and pain
BOOK NOW
Acupuncture is covered by most insurance
No Dr referral is needed
We can also direct-bill
HOW DOES FACIAL REJUVENATION WORK?
The treatment not only works to nourish, rehydrate, tone, and reduce wrinkles, but it also addresses underlying issues contributing to cellular degeneration and ageing. This makes it a reliable long-term solution for anti-ageing, along with other problems like digestive issues, acute or chronic pain, stress, insomnia, and fatigue. The practitioner will select particular acupuncture points based on your specific needs.
Unlike many mainstream beauty treatments, like Botox, facial acupuncture addresses both the surface signs of premature ageing and the internal causes. By directing the body's healing energy towards repairing the skin, it stimulates the body's natural regeneration process.
While the skin will appear revitalized after your first treatment, keep in mind that true results accumulate over time, as your body is in the process of creating new collagen. For significant, long-lasting results, we recommend a series of six to eight treatments, with three to four treatments within a span of one to two months, followed by monthly or bi-monthly sessions.
Each appointment lasts 60 minutes.
OUR DOCTOR OF TRADITIONAL CHINESE MEDICINE
Owner & Therapist

DR. ALLISON MALONEY

Registered Acupuncturist, Herbalist, Doctor of Traditional Chinese Medicine, Yoga Instructor
FAQs
DOES FACIAL ACUPUNCTURE REALLY WORK?

While individual results may vary, many people claim that facial acupuncture has positive effects on their skin, such as reducing fine lines, wrinkles, and puffiness. It is said to stimulate blood flow, collagen production, and lymphatic drainage, contributing to a healthier complexion.
HOW LONG DOES AN ACUPUNCTURE FACIAL FACELIFT LAST?

The effects of an acupuncture facelift are not permanent, and the duration of results may vary from person to person. Regular maintenance sessions are often recommended to maintain the benefits obtained from the treatment.
IS FACIAL ACUPUNCTURE BETTER THAN BOTOX?

Facial acupuncture and botox are different treatments with distinct approaches. Facial acupuncture is considered a natural and non-invasive alternative to Botox and other injectable treatments. Some people prefer facial acupuncture for its holistic approach and potential skin-improvement benefits.
CAN ACUPUNCTURE MAKE YOUR FACE LOOK YOUNGER?

Facial acupuncture helps improve the appearance of the skin, leading to a more youthful look by addressing issues like fine lines, wrinkles, and skin texture. It is said to promote collagen production and enhance blood flow, contributing to a healthier and rejuvenated complexion.
WHAT ARE THE BENEFITS OF FACIAL ACUPUNCTURE?

The benefits of facial acupuncture may include improved skin texture, reduction of fine lines and wrinkles, increased blood circulation, stimulation of collagen production, and overall skin rejuvenation.
WHAT NOT TO DO AFTER FACIAL ACUPUNCTURE?

After a facial acupuncture session, it is advisable to avoid excessive sun exposure, alcohol consumption, and strenuous physical activities. It's essential to follow any specific post-treatment instructions provided by the acupuncturist for optimal results.
WHAT ARE THE AFTER EFFECTS OF FACIAL ACUPUNCTURE?

After facial acupuncture, on some rare occasions, people may experience mild redness or slight bruising at the needle insertion points. However, these effects are generally temporary and should subside within a short period. We take extra caution to reduce the risks of bruising and any discomfort to a minimum.
HOW MANY TREATMENTS FOR FACIAL ACUPUNCTURE?

The number of facial acupuncture treatments required can vary depending on individual skin concerns and goals. Some people may start seeing improvements after just the first session, while others may need several treatments to achieve desired results.
DOES FACIAL ACUPUNCTURE STIMULATE COLLAGEN?

Yes, facial acupuncture is believed to stimulate collagen production, which can help improve skin elasticity, reduce the appearance of wrinkles, and promote a more youthful complexion.
CAN ACUPUNCTURE HELP SAGGING JOWLS?

Some proponents of facial acupuncture claim that it can help improve the appearance of sagging jowls by stimulating collagen production and promoting skin elasticity. However, the effectiveness of this treatment may vary among individuals.
CAN ACUPUNCTURE LIFT EYELIDS?

There are claims that facial acupuncture can help lift and rejuvenate the eyelids by addressing skin concerns in the surrounding area. However, it's essential to consult with a qualified acupuncturist or healthcare professional for personalized advice.
WHAT IS THE MOST EFFECTIVE TYPE OF FACIAL?

The effectiveness of different facial treatments can vary based on individual needs and skin conditions. Some people find benefits in facial acupuncture, while others may prefer procedures like microneedling, Oxygeneo Facial, chemical peels, Botox or laser treatments for specific skin concerns.
DOES FACIAL ACUPUNCTURE HELP WITH DARK CIRCLES?

Some proponents suggest that facial acupuncture may help improve blood circulation and reduce puffiness, which could potentially benefit the appearance of dark circles. However, individual results may vary.