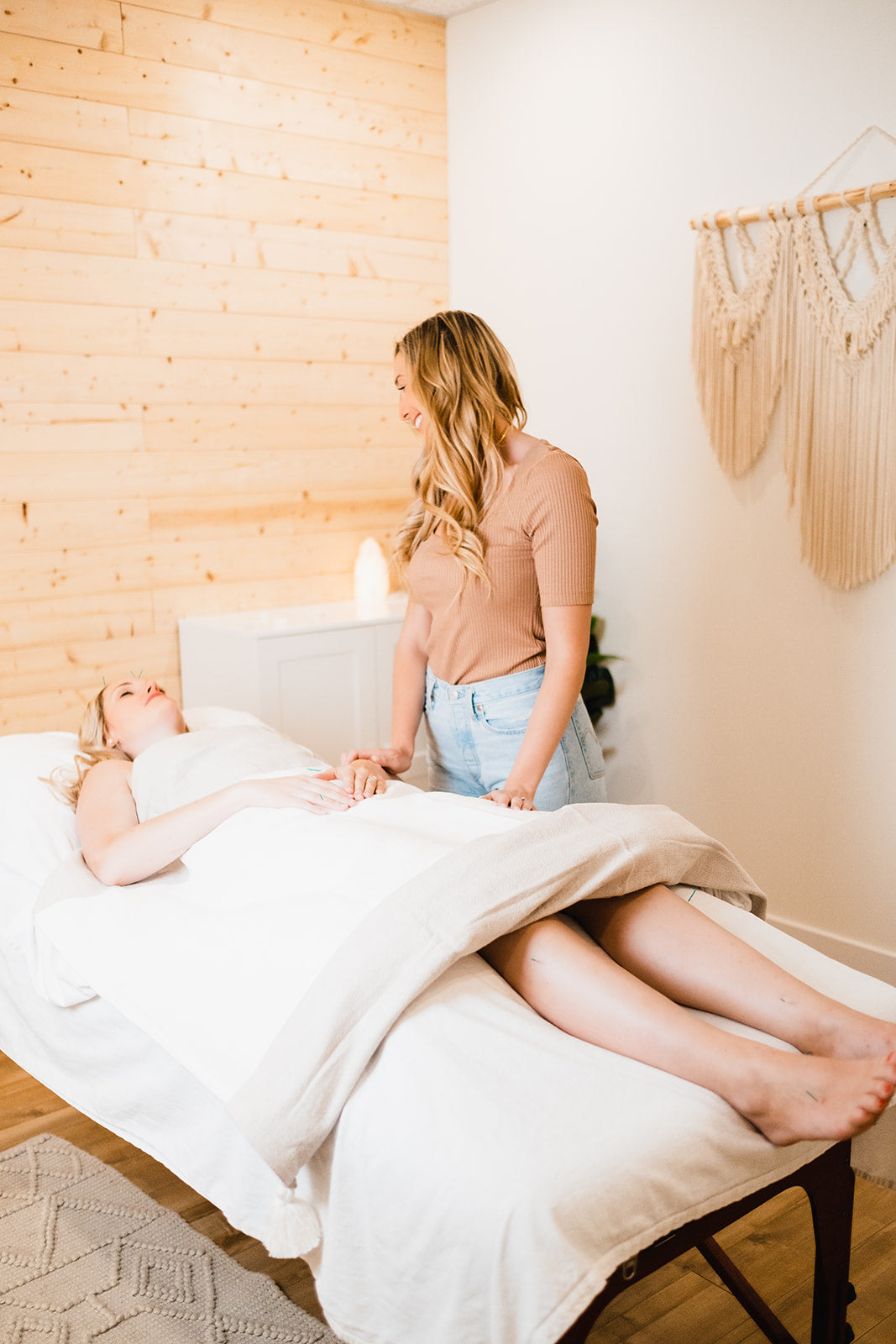 ACUPUNCTURE & TRADITIONAL CHINESE MEDICINE
Our practitioners have experience and can help with:
Muscular, Joint and Nerve Pain Management
Hormonal, Reproduction  and Fertility support
Stress, Anxiety, Nervous System and Sleep issues
Digestive and Urinary issues
Skin issues, Scars, Wrinkles and Fine lines
If you have any questions or wondering how we can help you, please call the clinic at 709-422-4524.
BOOK NOW
Covered by most insurance No Dr referral needed We direct-bill insurances
OUR ACUPUNCTURISTS AND CHINESE MEDICINE PRACTITIONERS
Owner & Therapist

DR. ALLISON MALONEY

Registered Acupuncturist, Herbalist, Doctor of Traditional Chinese Medicine, Yoga Instructor

Owner & Therapist

MARC-ALEXANDRE MESTRES

Registered Acupuncturist, Herbalist, Practitioner of Traditional Chinese Medicine
FAQs
WHAT IS ACUPUNCTURE? WHY IS IT SO EFFECTIVE?

Acupuncture is a Traditional Chinese Medicine therapy practiced for over 3000 years.

Traditional Chinese Acupuncture works by stimulating some receptors on the Fascia (the film on top of muscles) to release tensions from the nervous system in other parts of the body. This release will relax muscles, improve the blood flow, moving the inflammation away from the damaged area and starting & improving the healing process.

 Thanks to its effect on the nervous system and the whole body, Traditional Chinese Acupuncture works great for Whole body issues like:

Muscular, Joint and Nerve Pain Management
Hormonal, Reproduction  and Fertility support
Stress, Anxiety, Nervous System and Sleep issues
Digestive and Urinary issues
Skin issues, Scars, Wrinkles and Fine lines

 Acupuncture is practically painless as we use very fine needles which do not damage tissues. Actually, most people feel incredibly relaxed and refreshed after a treatment thanks to its effect on relaxing the nervous system.

 The results can be seen during the treatment and last over time. For best results and depending of the issues it is recommended to follow a course of 3-5 treatments approx. a week apart.
WHAT IS FIRE-CUPPING?

Fire Cupping Therapy is a treatment where the therapist places suction cups on the skin. By creating a vacuum with a flame and placed on the skin, the tissue is drawn up into the cup. This increases the blood flow, loosens the fascia or connective tissue, to stimulate healing. It is similar to the way deep tissue massage can be used to break up scar tissue and reduce pain. The cups are often placed on the back, neck, and shoulders or the site of pain. Cupping may cause temporary bruising and soreness, depending upon the degree of suction and the stiffness/knot of the muscle. The cups are left on for around 10 minutes before being removed by releasing the pressure.

The advantage of the Fire Cupping is the use of glass cups with a smoother edge that glide easily on the skin.
HOW DOES ACUPUNCTURE WORK?

We provide two different perspectives: Eastern and Western

​THE WESTERN PERSPECTIVE​

When your body feels a weakness in a tissue (joint, muscle, tendon, etc.) It will protect it by tightening the nervous system and all the muscles around the weak area, which can lead to tightness, pain, spams, pinched nerve and reduced blood flow. To be able to heal and reinforce the weak tissue Traditional Acupuncture puts the nervous system back in a relaxed stance, returning a normal blood flow and nerve supply, strengthening back the tissues. After each treatment your body feels the tissues are able to handle more and more movement and strength, reducing the amount of pain and restriction felt while using that part.

Scientific research has revealed Acupoints are located in nerve bundles and nerve endings, mast cells (used for immune response), lymphatic ducts, and capillaries. These Nervous system bundles can store a lot of tensions and tighten the muscles fed by the same fascia. When you release that tension by inserting an Acupuncture needle, it relaxes the nervous system, reducing tightness, pain and improving blood flow. Once relaxed the tissues are able to receive normal blood flow, which starts and improve the healing. in the tissues reach one of the nervous system bundle where a lot of tension has been stored.

Acupuncture channels also show up as different colors than surrounding tissues on films taken with infrared imaging. Western research has also indicated further benefits of acupuncture on the body's physiological processes.

​Aid in the function of immune system cells by stimulating the release of neurotransmitters and neurohormones to reduce inflammation both locally and throughout the body. This in turn promotes the body's natural healing process.

 THE EASTERN PERSPECTIVE​

This stems from the belief that illness occurs when the body is out of balance or when something is blocking or affecting the body's energy flow. "Qi" is all of the essential life energy that is flowing through the body and the motivating force of all physiological processes. We stimulate specific points located along the energy channels that connect all the major organs. This stimulation releases the blockage of "Qi" and promotes the body's natural healing capabilities. While Western medicine has been around for centuries, Traditional Chinese Medicine (TCM) has been around for thousands of years. The first record of TCM dates back over 2,000 years, though it is believed that the origin of TCM goes back for more than 5,000 years. Over the course of its history, experiences and techniques prove that TCM works effectively.
WHAT DOES ACUPUNCTURE FEEL LIKE?

Different people experience different sensations on their acupoints. Most people feel a slight pressure when a needle is inserted. For some, finger pressure feels stronger than when an acupuncture needle pierces the skin. For others, they do not feel pain. Depending on the points worked on, a patient may feel a little soreness, heaviness, tingling, or numbness.

​

These signs are indications that "Qi" or nervous feedback has been accessed and the nervous system tension has been released, releasing the pain and stiffness in the fascia associated with the needling area. Some patients have commented how comfortable they felt during a treatment, as well as feeling a tremendous sense of relaxation.
WHAT KIND OF ACUPUNCTURE NEEDLES DO WE USE?

We only stock high quality needles that are sterile and disposable. These needles are used only once and then disposed of as per biohazard guidelines. We guarantee that each and every needle is manufactured in German factories that have high standard manufacturing and quality control procedures.

​

Whether the needle is used for body acupuncture or auricular acupuncture, the entire length of the needle shaft is coated with a micro layer of FDA-approved bioinert silicone to aid in reaching target depth and to minimize patient discomfort.
WHAT CONDITIONS CAN ACUPUNCTURE TREAT?

Digestive:
indigestion, bloating, ulcers, colitis, irritable bowel syndrome (IBS), acid reflux, constipation, diarrhea, heartburn, vomiting, gallstones, abdominal pain
Musculoskeletal:
muscle ache, pain, stiffness back pain, arthritis, carpal tunnel syndrome, sciatica, atrophy, tendinitis, fibromyalgia
Hormones:
hyper/hypothyroidism, hormonal imbalances, diabetes
Women's health:
irregular or painful periods, amenorrhea, infertility, menopause, fibroids, cysts, uterine bleeding, pelvic pain
Emotional:
anxiety, depression, stress,  mood disorders, addictions, insomnia
Immune:
reduced immune function, fatigue, frequent illness, infections, inflammation
Urinary:
frequent, urgent, painful or dysfunctional, kidney stones
Neck:
neck pain, stiffness, whiplash
Head:
headache, migraine, dizziness, eye pain, memory loss, facial pain, Bell's palsy, toothache, jaw pain, sinusitis
Respiratory:
asthma, allergies, cough, colds flu, chest tightness
DO YOU DIRECT-BILL INSURANCES? DO I NEED A DOCTOR'S REFERRAL?

Most extended medical/insurance plans cover Acupunsture treatment fees.

Please contact your insurance provider to check if they require a Doctor's referral, to be able to claim or direct-bill treatments.

Allison and Marc-Alexandre are also licensed Naturopathic practitioners or Naturotherapists which can be cover by some insurances.

Insurances that we can direct-bill:

Bluecross
CanadaLife
Cinup
Chamber of Commerce
Coughlin
Cooperators
Cowan
Desjardins
First Canadian
GroupHealth
Great-West-Life
GreenShield
Industrial Alliance
Johnson Insurance
Johnston Group
Manulife
Maximum Benefit
Sun Life Financial

If your insurance is not in the list, you will receive a receipt after the treatment that you can send to your insurance to get refunded of the portion covered.
ARE THERE ANY CONTRAINDICATIONS OF ACUPUNCTURE?

There are very few situations where acupuncture is advised against. The most common are:

If the patient has a hemophilic condition
If the patient has a severe psychotic condition
If the patient has a contagious disease, like TB (For public safety)